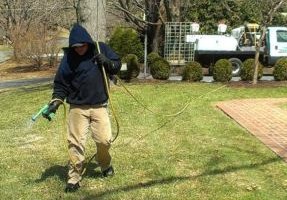 Unruly weeds? Wiregrass? Relax…We got this.
You could spend your weekends picking dandelions and trying to calibrate your fertilizer spreader. But why? We have done the calculations. If you value your time and expect results, it is more cost effective to have a professional maintain your lawn's health. We have worked with Virginia Tech to streamline a three step turf program which will deliver results. Weeds and Crabgrass will be virtually eliminated and your turf will have a stronger root system and better appearance. It's three applications with big value and big results built in!
Williams Brothers has certified and licensed spray applicators and technicians applying chemicals so you can be assured the chemicals being used are being applied in a safe and responsible way. The fertilizers used in our turf program are phosphorus free so you need not worry about impacting the environment.
SERVICES
Early Spring Pre-Emergent and Fertilization- Pre-emergent and fertilizer are applied in the Spring (February through April) to give an early nutritional boost to the grass while suppressing the germination of weed and crabgrass seed naturally present and existing in the soil. It does not kill existing weeds already visible in the lawn.
Spring/Early Summer Weed Control and Ferilization- This treatment is applied between April and July. Existing weeds are targeted and follow-up fertilization utilizes 100% slow release Nitrogen which will spread the nutritional benefits out over an 8-12 week period maximizing the utilization of the fertilizer and extending the benefits even further into the hotter part of the summer.
Fall Weed Control and Fertilization- This treatment is applied in the fall between September and November. Existing weeds are again targeted. The fertilizer is a combination of instant and slow release Nitrogen. This formulation promotes over-winter grass root development and plant nutrient storage which will improve the thickness and strength of your turf.
Crabgrass Treatments
Wiregrass Suppression
Fungicide Treatments
Pesticide/Grub Treatments
Soil Sampling and Analysis
Pond Treatments
EQUIPMENT
Our spray applicators utilize various delivery methods depending on the treatment. You may see them spraying directly from the spray truck or utilizing a hang or backpack sprayer. One piece of equipment that sets us apart from other is our Z-Spray machine which is kind of like a standup four-wheeler made specifically for the application of lawn fertilizer and weed control. It makes for easy and consistent applications over large areas.