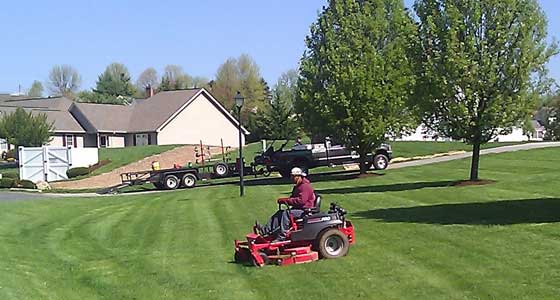 Grass growing like crazy? Bare spots? Relax…We got this.
Chances are you have better ways of spending your time than toiling away in your yard. Stop fiddling with your mower and fighting with your weed eater string! We have been taking care of lawns for over 15 years and we have got it down pat. Our reputation has been built on the execution of these services and the value built into them. Let us take care of the dirty work.
SERVICES
• Mowing, Trimming, and Edging
• Lawn Installation- Grading and Seeding or Sod
• Lawn Renovation- Core Aeration/Compost
• Turf Repair
• Pest and Disease Treatments
• Fertilization and Weed Control Programs
• Soil Sampling and Analysis
EQUIPMENT
Our mow crews utilize a number of different mowers based on a property's needs. Wide open areas are mowed with Land Pride or SnapperPro zero-turn riders. Tighter areas are done with Gravely or Snapper Pro walk behinds and push mowers. The guys are also equipped with string trimmers, and blowers to leave the lawn and your property looking tidy.